If I ever ask my family what kind of cookies they would like me to bake, the answer is always the same. "Can you please make your gingerbread cookies"? I have been making these ever since my kids were toddlers. They are in college now and still ask for gingerbread cookies. Holidays just wouldn't be the same without them.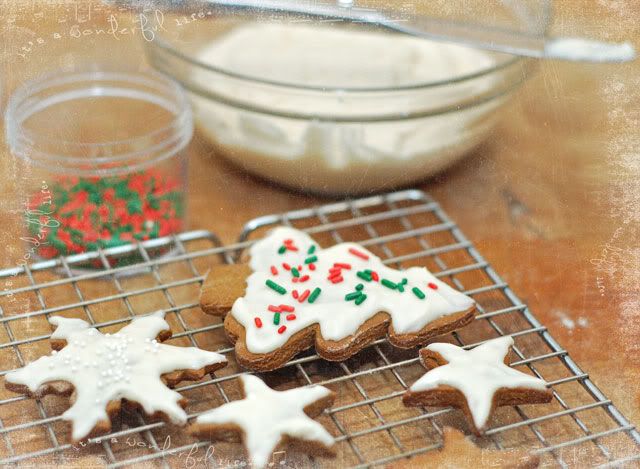 One of my favorite memories making these cookies was when my youngest son was 2 years old. He was helping me decorate the cookies. After some time he piped up, all excited, "Look mommy, he has a wee wee!". Sure enough, I look over and he has created an anatomically correct gingerbread man. Kids do the darndest things! It was all I could do to keep a straight face.
If you want to make these yummy cookies, here is the recipe I use:
Gingerbread Cookies
3/4 cup sugar
1/2 cup unsalted butter, softened
3/4 cup molasses
1/2 cup buttermilk
4 cups flour
1 teaspoon baking soda
3/4 teaspoon salt
1/2 teaspoon baking powder
2 teaspoons ginger
Cream sugar and butter in mixing bowl. Beat in molasses and buttermilk. Stir in remaining ingredients until well mixed. Chill several hours or overnight. Preheat oven to 400°F. Roll out 1/3 of the dough at a time on a floured surface to 1/4-inch thickness. Cut into desired shapes with floured cookie cutter. Place 1 inch apart on lightly greased baking sheets. Bake 7 to 10 minutes or until edges are set. Decorate with Spiced Vanilla Icing.
Spiced Vanilla Icing
Corrected
4 cups powdered sugar
2 teaspoons vanilla
4 tablespoons unsalted butter, softened
6 to 8 tablespoons light cream or Milk
1/4 teaspoon Cloves (optional)
1/2 teaspoon Nutmeg (optional)
1/2 teaspoon Ginger (optional)
1 teaspoon Cinnamon (optional)
Food Coloring (optional)
Combine powdered sugar, vanilla, butter and enough cream until it has a very soft, spreadable consistency. Use it just like this if you want to decorate white cookies. Add all or any combination of the cloves, nutmeg, ginger and cinnamon to make a delicious spiced icing. Separate it into different bowls and add food coloring if desired.
I doubled the icing recipe since I usually need at least 2 batches to decorate the cookies; however, I originally forgot to double some of the ingredients. That has been corrected. Sorry about that!
Happy Baking!!
Some of these images have been processed using Kim Klassen's Day 6 and Day 7 magic textures. Many thanks to Kim for hosting her 12 days of textures!